Very little is known about Edward's personal life. We know he was born in the village of Ballinacurra, near Midleton, County Cork, Ireland in 1785. Most accounts suggest he was the son of a fisherman or sailor. As far as we know he had just one brother and no sisters and to the best of our knowledge lived at No. 3 Upper Road , Ballinacurra. Inferring from Catholic parish census material of 1842, other family members were Roman Catholic, so it would be reasonable to suggest he was brought up a Catholic.
The 1842 Midleton Parish Census showing the Bransfields living in Ballinacurra at the time.
Map showing the location of the house where Edward Bransfield is thought to have been born.
The only evidence of Edward Bransfield's family in Ballinacurra today can be found in the old cemetery. There you will find the headstone erected by his brother William and his wife Norry for their son Richard and it is possibly where they are also buried.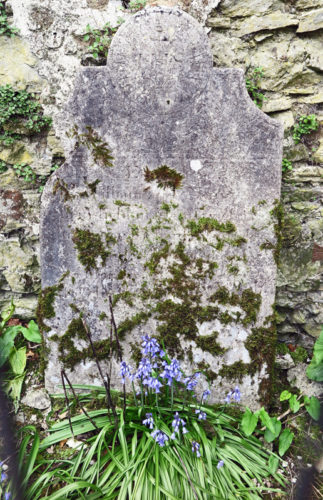 The inscription on the headstone reads: Erected, By William and Norry, Bransfield in Memory of, their son Richard Bransfield, who died January 7th 1818 aged, 13 months and as a mark, of the Burial Place of them, and Family 
Nothing is known about his early education but judging by the way he moved quickly up the ranks in the British Navy, he must have been a very bright person with some sort of formal or semi-formal education.
We do know that in 1803, probably in Cork Harbour, he was 'prest' into the British Royal Navy. Most authorities believe he would have been taken by force. HMS Dryad was working on impressment service along the Cork coast at the time and judging by one contemporary account was not welcomed by the local population. His naval career is dealt with here.
Shortly after his historic voyage, Bransfield drifted into obscurity and very little is known about the rest of his life. For reasons which are not clear, he left the Navy and began working in the merchant fleet, although very few records of his activities appear to have survived.
He was Master on at least four merchant ships between 1824 and 1844. We know of a letter by him responding to an enquiry about his knowledge of the famous Antarctic explorer James Weddell. We also know that he had some association with the Coastguard station at Lancing, Sussex because in 1839 he endorsed an award winning invention described as 'a machine for indicating the lee-way of a ship'.
Marriage Cert for Edward's second marriage, to Caroline Bath in 1817
We also know he married three times, all to Protestant English women and it is very possible that he converted to the Protestant faith while in the Navy. His first two wives died within a year of marriage. We know he lived in Cannon Street Road, St. Georges in the East (London), South Bersted (Sussex), 11 Clifton Road Brighton and finally settled in 61 London Road, Brighton where he lived the rest of his life with his third wife Anne. Judging by his will and that of his wife they were not poor and would be described as comfortable. As far as we know Edward had no children as none are mentioned in his will and he instructed his executor "to pay the sum remaining in his possession to the surviving children of my brother William Bransfield in equal parts" (Fig. 2). He died at London Road, Brighton on the 31st October 1852 at the age of 67 and both he and his wife Ann are buried in the Extra-Mural Cemetery in Brighton. The original inscription on the gravestone says 'Sacred to the memory of Edward Bransfield, Esq, the Royal Navy, Died 31st October, 1852. Age 67 years'. No obituary has been found and his death notice on the 6th November in the Hampshire Telegraph simply says
"….Edward Bransfield, Esq. R.N., age 67, the first surveyor of the South Shetland Islands, &c., lying to the southward of Cape Horn."
The location of Edward's last house, 61 London Road, Brighton, England
A picture of the house taken in 1917, with a shop built onto the front of it
Edward Bransfield's Will (1852)
Anne Bransfield's Will (1864)
Edward Bransfield's grave in 1917
Edward Bransfield's grave today
We will continue to search for new information on Edward Bransfield as we are sure there is a lot more to be discovered about this enigmatic and important figure of Antarctic exploration.